pdfFiller is not affiliated with any government organization
Get the free business non disclosure agreement form
Show details
Hide details
NON-DISCLOSURE AGREEMENT THIS AGREEMENT the Agreement is entered into on this day of by and between located at the Disclosing Party and with and address at the Recipient or the Receiving Party. This Agreement does not create a joint venture or partnership between the parties. If a Transaction goes forward the non-disclosure provisions of any applicable transaction documents entered into between the parties or their respective affiliates for the Transaction shall supersede this Agreement....
Get, Create, Make and Sign disclosure agreement form
Get Form

eSign

Fax

Email

Add Annotation

Share
How to fill out business non disclosure agreement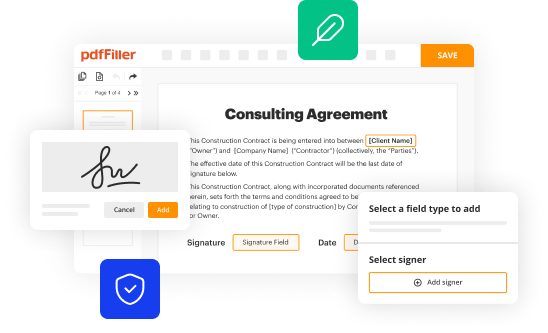 How to fill out a business non-disclosure agreement:
01
Begin by carefully reading through the entire agreement to understand its terms and conditions.
02
Fill in the relevant personal and business information requested in the agreement, such as names, addresses, and contact details.
03
Pay close attention to any blank fields or spaces that require your specific details, obligations, or representations.
04
If there are any sections that are unclear or need further clarification, consult with a legal professional for guidance.
05
Make sure to sign and date the agreement in the designated areas.
06
Keep a copy of the fully executed agreement for your records.
Who needs a business non-disclosure agreement:
01
Businesses or individuals looking to protect their confidential information and trade secrets.
02
Entrepreneurs or startups engaging in discussions, partnerships, or collaborations with other companies or investors.
03
Any entity involved in mergers, acquisitions, or joint ventures where sensitive information will be shared.
04
Freelancers or consultants who may have access to proprietary information or trade secrets of their clients.
05
Employers requiring employees to handle confidential information as part of their job responsibilities.
06
Any party engaging in negotiations, licensing agreements, or contracts that involve the exchange of sensitive information.
This is how it works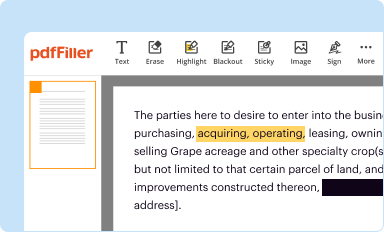 Edit your business non disclosure agreement form online
Type text, complete fillable fields, insert images, highlight or blackout data for discretion, add comments, and more.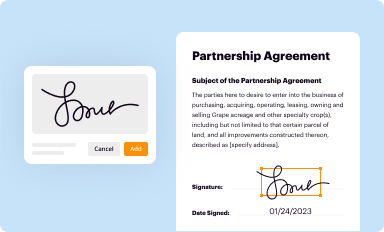 Add your legally-binding signature
Draw or type your signature, upload a signature image, or capture it with your digital camera.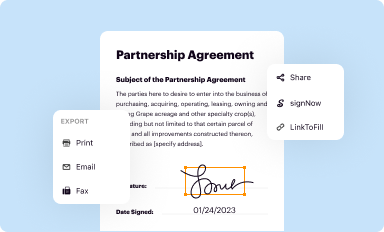 Share your form instantly
Email, fax, or share your business non disclosure agreement form via URL. You can also download, print, or export forms to your preferred cloud storage service.
Editing business non disclosure agreement online
To use our professional PDF editor, follow these steps:
1
Create an account. Begin by choosing Start Free Trial and, if you are a new user, establish a profile.
2
Upload a document. Select Add New on your Dashboard and transfer a file into the system in one of the following ways: by uploading it from your device or importing from the cloud, web, or internal mail. Then, click Start editing.
3
Edit non disclosure agreement pdf form. Rearrange and rotate pages, add new and changed texts, add new objects, and use other useful tools. When you're done, click Done. You can use the Documents tab to merge, split, lock, or unlock your files.
4
Save your file. Select it from your records list. Then, click the right toolbar and select one of the various exporting options: save in numerous formats, download as PDF, email, or cloud.
With pdfFiller, it's always easy to work with documents.
People Also Ask about business non disclosure agreement
How do I write an official non-disclosure agreement?
What are the 2 types of non-disclosure agreement?
Can you write your own non-disclosure agreement?
What is a non-disclosure document agreement in business in business?
Does a NDA need to be notarized?
How do I write a non-disclosure agreement?
Non Disclosure Agreement Printable is not the form you're looking for?
Search for another form here.
Comments and Help with nondisclosure agreement form
Who needs a Sample Non-disclosure Agreement?
Sample Non-disclosure agreement may be needed by legal entities that decided to enter into negotiation on a transaction which involves exchange of confidential information.
What is Sample Non-disclosure Agreement for?
When two legal entities consider a potential transaction of any kind, they might need to exchange confidential information. Disclosure of that information to third parties may have an adverse effect on the transaction or may result in economic loss. To prevent such a disclosure, the entities enter into a non-disclosure agreement.
Is Sample Non-disclosure Agreement accompanied by other forms?
No other form is required for the conclusion of the Non-disclosure Agreement.
When is Sample Non-disclosure Agreement form due?
The parties to the Agreement decide upon the date of the Agreement.
How do I fill out Sample Non-disclosure Agreement PDF?
You should enter the date of the Agreement, the names and addresses of the parties in the first paragraph of the preamble.
In the second paragraph, you should provide a brief but sufficient description of the transaction that the parties are going to negotiate.
In paragraph (b) of section 11 "Miscellaneous", you should enter the state whose laws will apply to the agreement and whose courts will have jurisdiction over any disputes arising out of or in connection with the Agreement.
Finally, you should enter again the names of the parties, names and titles of the parties' representatives signing the Agreement.
The properly completed and executed Confidentiality agreement PDF constitutes a legally binding non-disclosure agreement.
Where do I send the Non-disclosure Agreement template?
As a rule, the parties execute the Non-disclosure Agreement in two original counterparts that have equal legal force. Each of the parties receives its counterpart
Video instructions and help with filling out and completing business non disclosure agreement
Instructions and Help about non disclosure agreement fillable form
It's critical to use the right NDA and to know how to use it I met Alexander a bit of business and technology lawyer for the past 17 years and before that I was involved in high-technology businesses as an engineer and as a marketing person let's begin with some really critical information trade secrets know how confidential information are the most valuable forms of intellectual property for most business the key here is that if any of them are disclosed without proper contractual or legal protection they're lost in other words you can't stop others from using that intellectual property without your permission if you disclose it improperly this form will help you avoid doing that so let's just talk a little about non-disclosure agreements because I think that's important to set the background a lot of people take the position that a nondisclosure agreement is, and it's just a form it doesn't really matter does it well actually it really does there are several key issues that have to be determined in a confidentiality agreement to make it enforceable now let me start off by saying hey do we need to use a confidentiality agreement at all and that may sound kind of strange given what I just said in the beginning but let me ask you have you ever been on a blind date now if you have, and you started that blind date by asking the person out of the box hey you know you look pretty good you want to get married do you want to have kids how many kids you want to have I don't think that blind date would last too long, yet companies often rush into a confidentiality agreement when really they shouldn't do it they need to find out hey are is this a good match and there's a really important distinction between what the confidential information does or what the outcome of it is versus how the actual details of the confidential information and so it's very important that when you think about using confidentiality agreement and disclosing trade secrets know-how or confidential information that you do that only after everyone has decided that there's a business reason to continue the relationship because the business reason is going to be the driver next when it comes to doing disclosures there's often a david-and-goliath arrangement here now the one thing I want to tell you is that David and Goliath usually doesn't work out anywhere except in the Bible right the David that would be you the smaller company with the confidentiality agreement usually gets crushed by a Goliath and what this means is if you can't enforce a confidentiality agreement if you can't afford to hire a lawyer and to go into court and take that on then you're really hoping that the other side is going to follow their obligations what this means is you still have to have the confidentiality agreement, but you've got to do some due diligence and that due diligence is critical to making sure that the other party isn't going to ignore their obligations and usually the way you look at this is...
FAQ
What is business non disclosure agreement?

A business non-disclosure agreement (NDA) is a legal contract between two parties that outlines confidential material, knowledge, or information that the parties wish to share with one another for certain purposes, but wish to restrict access to or by third parties. It is a legal way for two parties to protect sensitive information from being shared with any other person or entity.

Who is required to file business non disclosure agreement?

A business non-disclosure agreement should be signed by any party who has access to confidential information related to the business. This includes employees, contractors, vendors, consultants, and other third-parties who need to access the confidential information for business purposes.

How to fill out business non disclosure agreement?

1. Read the agreement thoroughly and make sure you understand all the terms and conditions before signing. 2. Fill in the names and contact information of both parties at the beginning of the agreement. 3. Fill in the date of the agreement. 4. Fill in any details regarding the confidential information that will be shared between the parties. 5. Specify the obligations of each party, including the length of time the agreement is valid and the consequences of any breach of the agreement. 6. Fill in the governing law and venue of the agreement. 7. Sign the agreement in the presence of a witness. 8. Make sure that both parties keep a copy of the agreement for their records.

What is the purpose of business non disclosure agreement?

A business non-disclosure agreement (NDA) is a legal contract between two or more parties that aims to protect confidential information shared between them. It sets out the terms and conditions that must be followed regarding the disclosure of the confidential information, and serves to limit access to the information to those who have signed the agreement. It also prevents the parties from using or disclosing the confidential information for any purpose other than what is outlined in the agreement.

What information must be reported on business non disclosure agreement?

1. The parties involved in the agreement and their contact information. 2. The scope of the confidential information covered by the agreement. 3. The obligations of the parties with respect to the confidential information. 4. The duration of the agreement. 5. The circumstances under which the agreement may be terminated. 6. Penalties for disclosing confidential information in breach of the agreement. 7. A description of the procedure for handling disputes arising out of the agreement. 8. The governing law and venue for dispute resolution. 9. The signatures of the parties involved.

When is the deadline to file business non disclosure agreement in 2023?

The exact deadline for filing a business non disclosure agreement in 2023 may vary depending on the jurisdiction. Generally, it is best to file these agreements as soon as possible in order to ensure their enforceability.

What is the penalty for the late filing of business non disclosure agreement?

The penalty for the late filing of a business non-disclosure agreement will depend on the specific agreement and the particular jurisdiction. Generally, the penalty for late filing may include a fine, a warning, or even a potential lawsuit.

How can I send business non disclosure agreement for eSignature?

non disclosure agreement pdf form is ready when you're ready to send it out. With pdfFiller, you can send it out securely and get signatures in just a few clicks. PDFs can be sent to you by email, text message, fax, USPS mail, or notarized on your account. You can do this right from your account. Become a member right now and try it out for yourself!

How can I edit non disclosure agreement printable on a smartphone?

The pdfFiller mobile applications for iOS and Android are the easiest way to edit documents on the go. You may get them from the Apple Store and Google Play. More info about the applications here. Install and log in to edit non disclosure agreement blank.

How do I edit non disclosure agreement online on an Android device?

The pdfFiller app for Android allows you to edit PDF files like disclosure non disclosure form. Mobile document editing, signing, and sending. Install the app to ease document management anywhere.